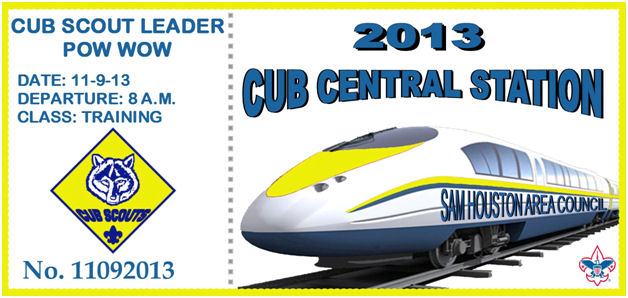 Cub Scout Leader Pow Wow 2013
will be at a location to be announced, November 9, 2013.
Registration/Sign In begins at 7am.
Opening Ceremony is at 8:15am.
The first class begins at 9am, classes end at 3pm.
Cost: $15 if registered through10/26/13. (The discount will be applied when you check out.)
Beginning on 10/27/13 the cost will increase to $20/person.
Walk-in Registration on November 9, 2013, the day of Cub Scout Leader Pow Wow, will cost $25.
Lunch for adults is $8 and, if ordered, will be added to your final receipt at check out.
We are offering classes for adults, with two youth sessions: Basic Aid Training for Webelos Scouts and Den Chief Training for Boy Scouts, Varsity Scouts and Venturers.
Youth sessions include lunch. BAT (Basic Aid Training) is for only for youth who have parents attending Cub Leader Pow Wow.
All adults - please register as Parent/Adult. 'Scout' is for youth only.
For this event, 'Staff' is defined as any person teaching a class or other staff (such as coordinators and those over facilities) at Cub Scout Leader Pow Wow.
Event Staff - please do NOT register for the class you are teaching.
If you are not taking any other courses, please choose 'Open Period' for one session to complete your registration.