College of Commissioner Science 2013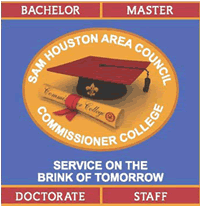 REGISTRATION FORM
STUDENTS AND FACULTY/PROFESSIONALS
"COMMISSIONING THE MISSION"
December 7, 2013
Cockrell Scout Center
The 2013 Commissioner College will be held on December 7,2013. The curriculum is set, and our Deans have been working with the faculty instructors to prepare for this third season of students.
Commissioners and Adult Scouters who are interested in pursuing Commissioner of Science degrees at the Bachelors, Masters, or even the Doctoral level are encouraged to begin or continue their studies at this year's college. You may view your College of Commissioner Science Transcript online through the link on College of Commissioners Science page on www.scoutcrest.org/ccs
Last year, a record 240 registrants made this event the foundation for commissioner training in 2012, and we plan to carry this training forward into the next Century. This year's theme, "Commissioning the Mission", underscores the importance of the Commissioner's role in uplifting the entire Scouting program. Thank you for registering for the College of Commissioner Science. Send quesitons to commissionercollege@yahoo.com
See you there!
Bill Weisemann
Dean 2013 College of Commissioner Science
$5.00 Late Fee for all Registrations after November 17, 2013
$10.00 Late Fee for all Walk Ins not pre-registered